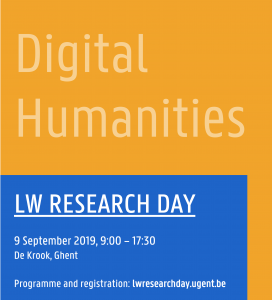 On Monday September 9, 2019, the second LW Research Day took place. Central theme was 'digital humanities'.
From a research perspective the term 'digital humanities' refers to the use of digital tools in existing research in the humanities, but also to new methodological opportunities and challenges arising from the use of digital tools, and even to the development of new methods for and to face new scientific challenges. The faculty wants to focus on the digital literacy of its staff in the coming years. During the LW Research Day we organized several lectures and information sessions, and we highlighted the research of our faculty.
Op maandag 9 september 2019 vond de tweede LW Research Day plaats. Centraal thema was 'digital humanities'.
Het begrip 'digital humanities' verwijst vanuit onderzoeksperspectief naar het inzetten van digitale tools in bestaand onderzoek in de humanities, maar ook naar nieuwe methodologische opportuniteiten en uitdagingen als gevolg van het gebruik van digitale tools, en zelfs naar het mee ontwikkelen van nieuwe methodes om bestaande en nieuwe wetenschappelijke uitdagingen het hoofd te bieden. De faculteit wil de komende jaren inzetten op de digitale geletterdheid van haar personeel. Tijdens de onderzoeksdag organiseerden we allerhande lezingen en infosessies en stelden we het onderzoek van de faculteit voor.