Chairs
Anne Breitbarth (voormiddag)
Veronique Hoste (namiddag)
Welkom
9u00 – 9u10
Veronique Hoste (FLW onderzoeksdirecteur)
Keynote
9u10 – 10u10
Rens Bod (professor Digital Humanities en Geschiedenis van de Humanities, UVA): "

Who's Afraid of Patterns? The Pearls and Perils of Digital Tools

"
Ontmoetingsmoment
10u10 – 10u30
Koffiepauze
Chair: Anne Breitbarth
Focus op digital humanities (1)
Vier digital humanities projecten in de kijker
Joke Meheus (vakgroep Wijsbegeerte en Moraalwetenschap): "Logic-based knowledge representations in the digital humanities: errors and inconsistencies"
Miriam Bouzouita (vakgroep Taalkunde):"Tracking Language Variation and Change Using Apps: The Case of Dialectos del español, the Spanish Dialects App"
Jeroen Deploige, Eric Vanhaute, Christophe Verbruggen en Sven Vrielinck (vakgroep Geschiedenis): "Bruges, Ghent and beyond. Spatial history, prospects and limitations of linked data"
Gunther Martens, Julie Birkholz, e.a. (vakgroep Letterkunde): "Digital Humanities en literatuurstudie. Een overzicht door de vakgroep Letterkunde"
Break-out
Research data management
11u45 – 12u15
Frederic Lamsens (FLW IT-dienst) en Lien Vanmarsnille (FLW bibliotheek) (presentatie)
Onderzoeksintegriteit
11u45 – 12u15
Veerle Provoost (vakgroep

Wijsbegeerte en Moraalwetenschap

): "Research integrity and our faculty's ethics committee"
Ontmoetingsmoment
Focus op digital humanities (2)
13u30 – 14u00
Jeroen Bourgognon (De Krook): "Hoe UGent onderzoekers maatschappelijke impact creëren in De Krook"
Christophe Verbruggen, Sally Chambers (GhentCDH): "Facultaire dienstverlening door het Ghent Centre for Digital Humanities"
Focus op digital humanities (3)
Vier digital humanities projecten in de kijker
Lieve Macken (vakgroep Vertalen, Tolken en Communicatie): "How product and process data complement each other in translation studies"  (presentatie)
Birger Stichelbaut, Wouter Gheyle (vakgroep Archeologie): "Historische luchtfoto's als bron voor de archeologie van moderne conflicten"
Phaedra Claeys (vakgroep Talen en Culturen): "La Russie illustrée. Minimale input, maximale output: datamanagement en (maatschappelijke) valorisatie dankzij Digital Humanities"
Marc Leman (vakgroep Kunst-, Muziek- en Theaterwetenschappen): "The Art & Science Interaction Lab (ASIL) at the KROOK. Een perspectief op Digital Humanities"
Onderzoek in beeld
Poster/demosessie
15u15 – 16u45
Overzicht van het digital humanities onderzoek aan de faculteit Letteren en Wijsbegeerte aan de hand van posters en demo's die worden toegelicht door de auteurs
Bezoek aan het IPEM-labo
De afdeling Musicologie-IPEM geeft een aantal demonstraties van lopend onderzoek in haar labo's in De Krook: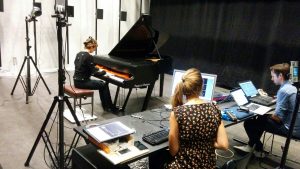 Demo 1. Piano performance demonstrating the use of motion capture (using infra red camera's) coupled to 3D-audio effect rendering system (using a 64 loudspeakers). The goal is to explore musical expression with innovative interactive multimedia that could be deployed in future concert halls.
Demo 2. Hocket singing, demonstrating an experiment with focus on data-analysis. The goal is to measure the quality of an interaction, for better understanding the effect of musics on social empowerment.
Demo 3. EEG-response on music, using a reinforcement learning system for music generation. The goal is to research brain-based biofeedback with music for medical applications.
Demo 4. Looking at the Mystic Lamb with eye-tracking and responses on an fNIRS system. The goal is measure empathic responses due to interaction with the painting.
Ontmoetingsmoment